WAR HAWK AND PROFESSIONAL IDIOT GEORGE PACKER WRITING ANOTHER MEANINGLESS ARTICLE ISN'T SURPRISING.
WHAT IS SHOCKING IS THAT THE BALDING 55-YEAR-OLD IS STILL USING A POSTAGE STAMP SIZE DRAWING OF HIMSELF THAT MAKES HIM LOOK 30 YEARS YOUNGER.
REACHED FOR COMMENT BY THESE REPORTERS, PACKER REPLIED, "I'M SO VAIN, I KNOW
CARLY SIMON
'S SONG WAS ABOUT ME."
FROM THE TCI WIRE:
For example, Moqtada al-Sadr.
The cleric and movement leader in Iraq is in the news.
And the usual liars of the western press are out in full force.
Moqtada filled Tahrir Square.
This is an accomplishment?
There was no police harassment.
Under police harassment, young Sunnis filled Tahrir Square every Friday for over a year.
They were beaten, they were arrested and they still filled the square in downtown Baghdad.
Friday, Moqtada couldn't even turn out a crowd like he had in March of 2014.
Anyone remember that?
That's Alsumaria
.
That's Al Mada
.
By contrast, filling Tahrir Square on Friday looks rather tiny.
Friday, Moqtada held a rally, not a protest.
It was a rally for the calls of the current prime minister Haider al-Abadi.
Yes, it was announced that no one spoke for the Sadr movement in the current government.
A minor note of discordance.
Otherwise, Moqtada was singing from Haider al-Abadi's hymnal.
Thursday,
NATIONAL IRAQI NEWS AGENCY noted
:
Prime Minister Haider al-Abadi stressed that the government needs to a reformist and harmonious team at the level of application and implementation of reforms and public trends and vision of the government," stressing "the importance of cooperation in order to reduce the number of MPs and members of the provincial councils."

The office said in a statement that Prime Minister Haider al-Abadi held a meeting with the Chairman and members of the economic and investment committee in Parliament, where he stressed that "economic reform needs to action, and we started working out to move the country to the right path."

He noted that "the government needs to harmonious reformist team at the level of application and implementation of the reforms and the general trends and vision of the government."
What are they talking about?
His appearance before Parliament -- the one the
Saturday, February 20th snapshot
noted Haider addressed Parliament and we mainly focused on the big news that he told Parliament the Shi'ite militias would be taking part in the liberation of Mosul. You can also see this
February 22nd entry
which includes Haider's Tweet about that:
PM Al-Abadi addressed Parliament to make the case for a ministerial reshuffle and outline his economic reform plan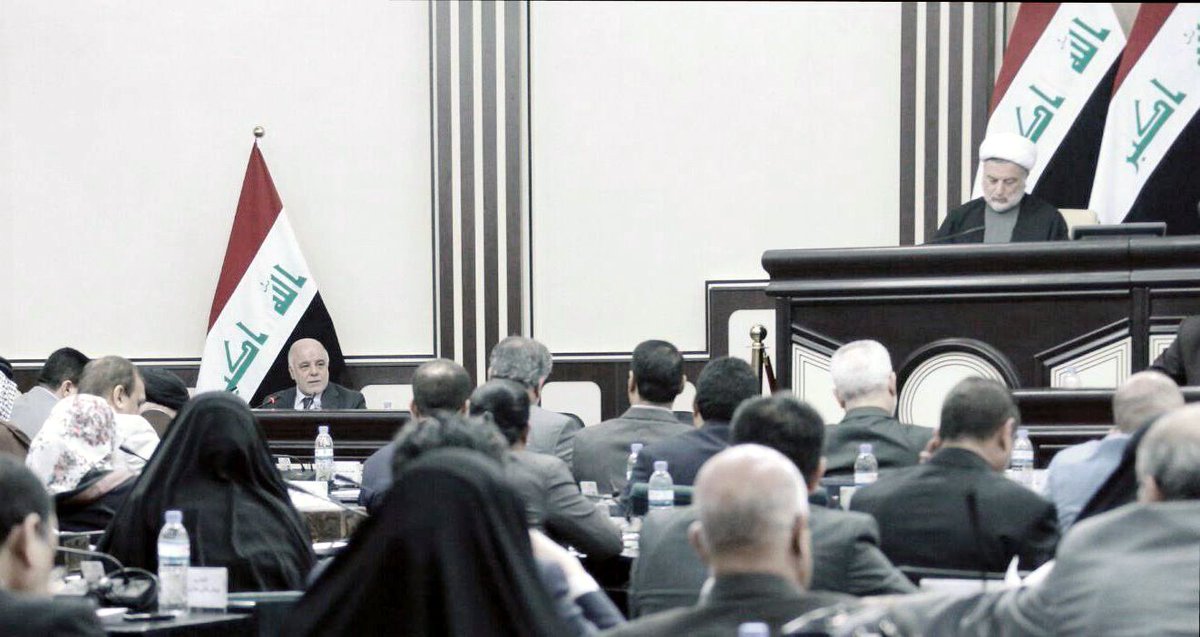 We offered an
analysis Friday morning
of what was actually going on.
RECOMMENDED: "
Iraq snapshot
"
"
Walk On Water
"
"
SHADES OF BLUE
"
"
So many more TV shows to be turned into bad movies
"
"
Fake ass Beyonce gets called out
"
"
Hillary's so full of crap
"
"
Weight Watchers New Complete Cookbook
"
"
Idiot of the week: John Kerry
"
"
Bernie Sanders sings Carole King
"
"
I agree with Susan
"
"
that useless 'scandal'
"
"
FULLER HOUSE
"
"
Gaga and Elton
"
"
THIS JUST IN! BIG DAWG GOES RABID!
"
"
This time it's Bill Clinton's big mouth
"