BILL CLINTON DECLARED BERNIE SANDERS SUPPORTERS THINK ALL PROBLEMS CAN BE SOLVED BY KILLING EVERY THIRD PERSON ON WALL STREET
.
THE VIOLENCE ADDICTION OF HIS WIFE IS CLEARLY SPREADING.
MORE TO THE POINT, WHEN BILL WAS PRESIDENT, HE THOUGHT HE COULD CURE ALL THE WORLD'S PROBLEMS BY SLEEPING WITH AS MANY WOMEN WHO WEREN'T HIS WIFE AS HE COULD.
ONE WONDERS WHAT STDS HE MAY HAVE PASSED ON TO HIS WIFE.
FROM THE TCI WIRE
:
AP reports
, "The US wants to do more in the fight, Carter said, and is 'only limited by our own ingenuity' and ideas. Carter expressed confidence that the White House will approve recommendations, saying nothing he has asked President Barack Obama for yet in the conflicts has been turned down."
Or AP 'reports' since that really wasn't the big news of those remarks.
Let's go to the
DoD transcript
for US Secretary of Defense Ash Carter's actual remarks:
SEC. CARTER: Across the whole spectrum. You know we're looking to do more, but it ranges from in the air to on the ground. All consistent with our overall strategic approach, which is to enable local forces ultimately to hold and sustain the defeat of ISIL, after ISIL is defeated, but to enable them to do so and accelerate that process so we continue to look for and identify ways of accelerating that, and as we find those we will do them. Obviously in Iraq we do that with the permission of the Iraqi government.



But we -- you should expect us to -- to see us doing more, to be consistent with the same approach, but it will be across all the domains, right up to cyber, which I mentioned earlier.



Now over the next few days I'll have an opportunity to talk to our commanders, and also to some in the region here, and obviously look for more good opportunities to accelerate the defeat of ISIL here in Syria and Iraq, which is absolutely necessary.



Q: When you say "on the ground," do you mean more U.S. troops on the ground in Iraq?



SEC. CARTER: Yes, I mean, I think some of these have that aspect to it, but I just want to emphasize there's a lot more that goes with this, and our -- and our presence on the ground is -- and will continue to be to enable, not to substitute, for local forces.
So the big takeaway there?
When he says "on the ground," he means "US troops on the ground in Iraq."
". . . We're looking to do more, but it ranges from in the air to on the ground" meaning "more US troops on the ground in Iraq."
The Secretary of Defense is openly addressing the desire of the administration to put more US troops on the ground in Iraq.
Meanwhile in Iraq, the Parliament follies continue.
MIDDLE EAST EYE reports
:
A group of Iraqi lawmakers said they would not take part in a Saturday parliament session to select a replacement for the speaker, apparently leaving it without the necessary quorum.
Iraq was on course to have two rival claimants to the speakership, further increasing chaos in parliament, which has already seen a vote to sack speaker Salim al-Juburi, a fistfight among MPs and a sit-in this week.
THE NATIONAL adds
:
An official session planned for Saturday had earlier been postponed for "security reasons," according to parliamentary spokesman Imad Al Khafaji. The protesting lawmakers gathered at parliament anyway, but later dispersed when it became clear they did not have the numbers to topple the speaker.
The protesting lawmakers vowed to hold the vote next week. An earlier attempt on Thursday had also failed for lack of a quorum.
The lawmakers are demanding that Iraq's top political leadership, including prime minister Haider Al Abadi, step down – accusing them of failing to reform a political system steeped in patronage. Earlier this week, MPs held a multi-day sit-in at the assembly.
US Special Envoy Brett McGurk Tweets: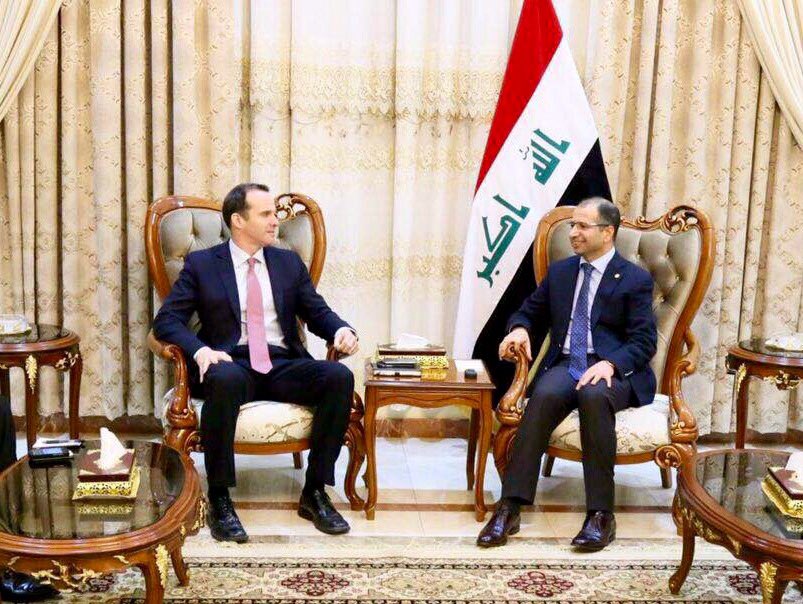 ALL IRAQ NEWS reports
that Speaker Salim al-Jubouri spoke with Shi'ite cleric and movement leader Moqtada al-Sadr today in an attempt to strengthen support for al-Jubouri.
AL MADA notes
that Moqtada is calling for the Cabinet of Ministers to be replaced with Haider al-Abadi's latest slate (which is being called a slate of "technocrats").
ALSUMARIA adds
that Moqtada says the quota system is depleting resources.
Which really means that Moqtada says that the Constitutional system is depleting resources.
REUTERS notes
, "Iraq's powerful Shi'ite cleric Moqtada al-Sadr said on Saturday he would re-start protests in 72 hours if the nation's leaders failed to vote on a technocrats' cabinet proposed by Prime Minister Haider al-Abadi to stem corruption."
ALSUMARIA reports
that Moqtada's followers pitched tents in Baghdad's Tahrir Square.
Meanwhile
IRAQ TIMES notes
that the Dawa Party has called out "hollow statements and slogans" being mouthed by some politicians.
ALL IRAQ NEWS explains
that was a response to Moqtada who had decried the failure of someone's third term as prime minister -- referring to Nouri al-Maliki who was forced out in August 2014 by the White House.
Nouri is accused of working behind the scenes to destroy any movement one way or another in his efforts to bring down Haider al-Abadi so that he can return as prime minister.
RECOMMENDED: "
Iraq snapshot
"
"
Rep. Tulsi Gabbard Votes Against Effort to Undermi...
"
"
Beto O'Rourke DAV Outstanding House Legislator of ...
"
"
Ashford Calls on Congress to Keep Promises to our ...
"
"
Pope Francis and Sen. Bernie Sanders met at the Va...
"
"
Congressman Seth Moulton Returns from Iraq, Middle...
"
"
Bernie Tweets
"
"
MARVEL AGENTS OF SHIELD
"
"
oh, shonda
"
"
Diana Ross THE BOSS
"
"
The Originals
"
"
BARBERSHOP: THE NEXT CUT
"
"
A news outlet finally gets it right!!
"
"
Her not so good resume
"
"
She lies
"
"
What did she tell Wall Street
"
"
Wag The Kennel
"
"
Where are her speeches?
"
"
THIS JUST IN! CRANKY DOESN'T KISS AND TELL!
"
"
Cranky believes some secrets must be kept
"