ONE OF THE REASONS IT HAS ALWAYS BEEN HARD TO PICTURE CRANKY CLINTON HAVING SEX WITH THE LATE VINCENT FOSTER IS BECAUSE IT'S HARD TO PICTURE HER EVER HAVING SEX WITH ANYONE.
IN FACT, IT'S HARD TO BELIEVE BILL EVER THREW HER A BONE.
BUT GROSS OR NOT,
THE PLAN IS TO DOCUMENT AND EXPOSE HER ALLEGED AFFAIR WITH VINCE FOSTER
.
REACHED FOR COMMENT, CRANKY CACKLED WHILE DECLARING, "THE AMERICAN PEOPLE DO NOT WANT TO PICTURE ME HAVING SEX ANY MORE THAN THEY WANT TO PICTURE ME ON THE TOILET!"
FROM THE TCI WIRE
:
The announcement of more US troops being sent to Iraq and that they would be publicly participating in combat did not go over well in Iraq.
However, the news of forthcoming US troops quickly took a back seat to the reality of Turkish troops in Mosul.
Sunday, Iraqi Prime Minister Haider al-Abadi gave Turkey 48 hours to remove their troops from Mosul.
Tuesday
saw Turkey's response: We'll stop sending troops into Iraq . . . but we're leaving those already in Mosul. Thursday,
REUTERS reported
Turkish President Tayyip Erdogan declared, "Withdrawing our soldiers is out of the question for the moment."
And today?
RT reports
, "Thousands of Iraqis across the country protested against the deployment of Turkey's troops to a base near the northern city of Mosul, held by Islamic State militants. Protesters chanted anti-Turkish slogans and burned and trampled on Turkish flags."
Al Arabiya clarifies
on the protesters, "Meanwhile, several thousand protesters, most of them members of Shiite paramilitary forces, gathered in central Baghdad on Saturday to demand the withdrawal of Turkish forces from Iraq."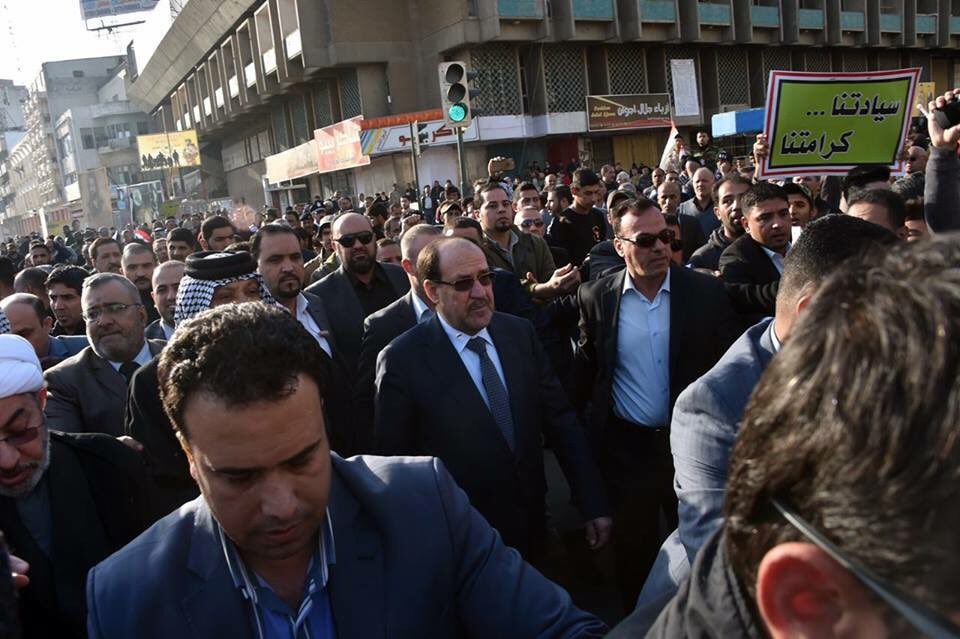 Susannah George and Qassim Abdul-Zahra (AP) report
:
Militiamen in fatigues, and their supporters and onlookers gathered in Baghdad's Tahrir Square, chanting, "No to occupation! No to Turkey!" Some young men burned Turkish flags. Former prime minister Nouri al-Maliki, who is Abadi's fiercest rival, walked through the square and was mobbed by supporters who took photos and videos with their phones.
The predominately Shi'ite protests follow the pronouncement this week by a Shi'ite cleric.
Ahmed Rasheed, Isabel Coles and Hugh Lawson (REUTERS) report
that Iraq's Grand Ayatollah Ali al-Sisanti added his voice Friday to the calls for Turkish troops to leave Iraq via a statement made by spokesperson Sheikh Abdul Mehdi Karbala'i at today's weekly sermon in which the spokesperson declared, "The Iraqi government is responsible for protecting Iraq's sovereignty and must not tolerate and side [with] that [which] infringes upon it, whatever the justification and necessities."
RECOMMNED: "
Iraq snapshot
"
"
Wave of protests brings anti-war mood onto the str...
"
"
Diverse Women's Leadership: Essential for Systemic...
"
"
Post-9/11 Veterans Claim Victory with Mayor de Bla...
"
"
Iraq's Turkish infestation and purge of Sunnis
"
"
Sandra Bullock
"
"
Another scandal for Cranky Clinton
"
"
The Originals
"
"
Watch how the 'brave' collapse
"
"
Unbreakable
"
"
Coward of the week: Ray McGovern
"
"
the hatred of women never ends
"
"
Some people have to invent things to b**tch about
"
"
Hollywood men
"
"
Mayberry's tot is as racist and sexist as ever
"
"
Cranky Clinton is so beyond two-faced
"
"
THIS JUST IN! IT'S FUNNY TO HER WHEN WESLEY DOES IT!
"