IN A DEVELOPMENT THAT'S LEFT BITCH-BOIS BOB SOMERBY AND DAVID BROCK IN TEARS, IT TURNS OUT THERE'S NO MORE DENYING THAT CRANKY CLINTON'S E-MAILS CONTAINED STATE SECRETS.
THE WASHINGTON POST REPORTS
:
The State Department acknowledged for the first time Friday that "top secret" information has been found in emails that passed through the private email server Hillary Clinton used while leading the agency, elevating the issue in the presidential campaign three days before the hotly contested Iowa caucuses.
REACHED FOR COMMENT, CRANKY CLINTON INSISTED THAT THIS WAS PART OF "A VAST RIGHT WING CONSPIRACY."
WHEN ASKED ABOUT THE STATE DEPT. BEING RIGHT WING, CRANKY SNARLED, "YOUR JOB IS TO JOT DOWN WHAT I SAY AND REPEAT IT -- NOT TO QUESTION ME! WHEN I'M PRESIDENT, ANYONE WHO QUESTIONS ME WILL BE SENT TO GITMO!"
FEARING THAT SHE MIGHT HAVE COME OFF TOO HARSH, CRANKY FOLLOWED THAT THREAT WITH A COY AND GIRLISH GIGGLE.
FROM THE TCI WIRE
:
Turning to the US political scene, Academy Award winning actress
Susan Sarandon
is in the news.
She's supporting US Senator Bernie Sanders in the race for the Democratic Party's presidential nomination.
Spent some great time sticking labels on flyers at Waterloo HQ. Their commitment is so inspiring.
#
FeelTheBern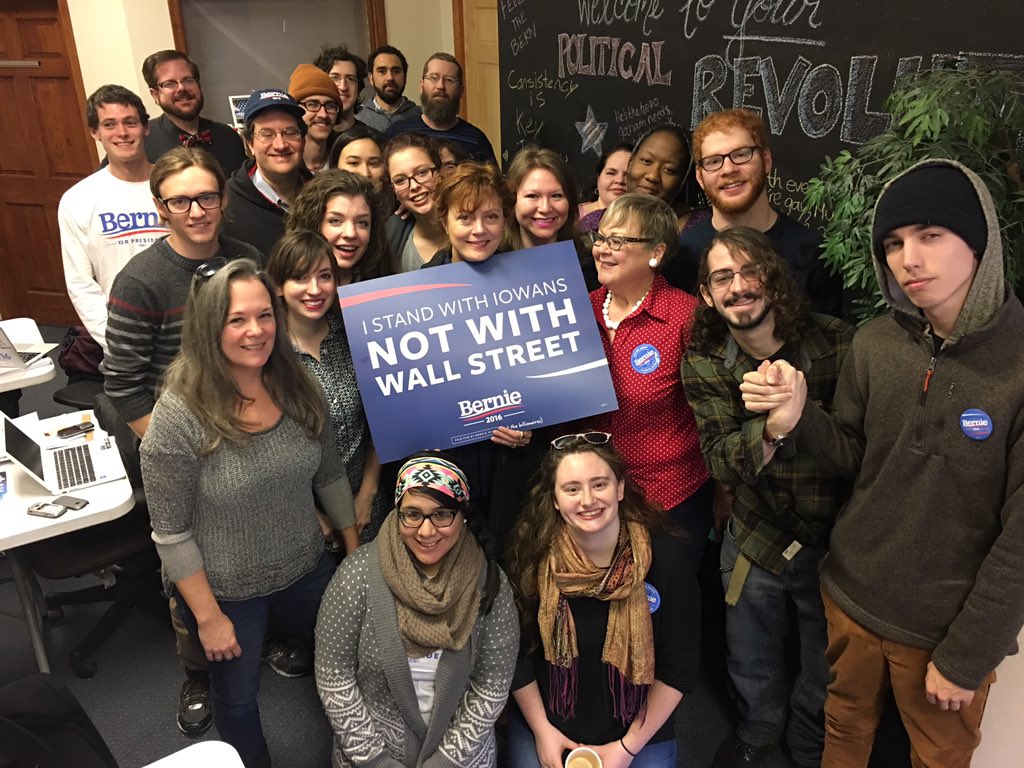 Bernie's chief rival for the nomination appears to be War Monger Hillary Clinton.
Jessica Chasmar (WASHINGTON TIMES) reports
:
Ms. Sarandon said Mrs. Clinton lost her support after voting for the Iraq War in 2002 as a New York senator.
"The biggest foreign decision that had to be made in terms of foreign policy was whether or not to go into Iraq and go into war, and she failed that test," she told the Daily Mail.
Mrs. Clinton went on to be secretary of state, "but what has she done that we're bragging about? How has she led?" Ms. Sarandon asked.
She didn't lead on equality.
Until 2013, she was a foe of marriage equality
. Long after others in elected office -- including US Vice President Joe Biden -- had taken a leadership role arguing for equality, Hillary was still opposing equality.
Susan noted Hillary's cowardice on the issue of equality.
Matthew Clark (SUN TIMES) notes
:
"It is one thing to be for gay rights and gay marriage once everybody else is for it," Sarandon said. "That's not difficult."
After her speech, Sarandon spoke with the Daily Mail, expounding on the idea that Clinton hasn't been a leader in the LGBT rights movement, despite receiving an endorsement from the Human Rights Campaign.
"There's a number of issues where she has come around but she very clearly equivocated or was not there in the beginning.
"She was not, and that's a matter of record, and yes she has come around. But my point is, it's great that she came around, but wouldn't it be great to be a leader instead of a follower, especially if you're going to hold the highest office in the land?"
Let's close with
Trina
's "
3 reasons we need to vote for Hillary Clinton
"
1) Overpopulation.

The earth is small, the population is growing.

A President Hillary Clinton would mean many, many wars and many, many, many deaths.

Hillary is the cure.

2) Lying will be accepted.

Hillary will not just popularize lying, she'll make it socially acceptable.

We'll no longer have to get on to our children for lying.

If we do, they'll just tell us that they're acting "presidential."


3) Equality is scary to some.

Hillary will ensure that vast poverty continues in the United States -- if only to assist her Wall Street friends.


Those are three reasons to vote for Hillary -- for some people.

They are among the three reasons I will not vote for Hillary.
RECOMMENDED: "
Iraq snapshot
"
"
Another US death in Iraq
"
"
Hillary our fairweather friend
"
"
Richard Nixon in a pant suit
"
"
Done with ARROW
"
"
How troubled is Tom Cruise's career?
"
"
Drop out, Hillary
"
"
lily tomlin was so great
"
"
SHADES OF BLUE Episode 4
"
"
Good for Susan
"
"
Paul Kantner
"
"
Hillary's Haiti 'success'
"
"
THIS IN! BECAUSE SHE HAD FAITH! FAITH! FAITH!
"
"
Faith! Faith! Faith!
"