CRANKY CLINTON IS SAID TO BE FACING LEGAL ISSUES AND POSSIBLE CRIMINAL CHARGES
.
REACHED FOR COMMENT, CRANKY SCOFFED AT THE POSSIBILITY INSISTING, "NO PEN IN THE WORLD COULD HOLD ME. AND NO ONE'S EVER MADE CHARGES AGAINST ME STICK. SLICK WILLIE? CALL ME TEFLON HILLY! NOTHING STICKS! NOT EVEN ON A BLUE DRESS! YOU KNOW M.C. HAMMER? HE WROTE 'YOU CAN'T TOUCH THIS' ABOUT ME."
FROM THE TCI WIRE
:
Iraq was slammed with violence today.
REUTERS counts
a minimum of 51 dead in Baghdad and the eastern town of Muqdadiya.
MIDDLE EAST EYE explains
, "Three bloody attacks struck Iraq on Monday evening, with gunmen raiding a Baghdad shopping mall, a bomb rocking a busy market in the capital and further bombings killing at least 20 in a town north of Baghdad."
Of the violence,
Judy Woodruff (THE NEWSHOUR, PBS) notes
, "It began with a car bomb and suicide blast at the Jawhara Mall. That touched off a 90-minute gun battle before security forces gained control. To the north, another suicide attack killed two dozen people. Ten more were killed in other bombings." Muqdadiya is a town in Diyala Province. Of the violence there,
Mu Xuequan (XINHUA) reports
, "Up to 23 people were killed and 44 others wounded on Monday in two coordinated bomb attacks at a coffee shop in a town in Iraq's eastern province of Diyala, a provincial security source told Xinhua."
Hamdi Alkhshali (CNN) notes
, "ISIS claimed responsibility for both bombings in statements posted on its media site."
DEUTSCHE WELLE observes
, "The bombings and attacks on Monday left the biggest death toll in three months. Without naming IS, Interior Ministry spokesman Brigadier General Saad Maan blamed 'this terrorist group after they suffered heavy losses by the security forces'." In light of today's attacks,
ALL IRAQ NEWS notes
, Ammar al-Hakim, leader of the Islamic Supreme Council of Iraq, has called on the Baghdad Operations Command to re-examine their security plans.
U.S. Condemns Terrorist Attacks in Iraq
Press Statement
January 11, 2016
The United States condemns the barbaric acts of terrorism today in Iraq, including a suicide bombing and hostage-taking at a mall in Baghdad for which ISIL has claimed responsibility and two separate suicide attacks in Muqdadiyah. We express our deep condolences to the survivors and to the families of the victims.
These attacks once again display the utter disregard ISIL has for the lives of innocent civilians. We stand united with the Iraqi people as they confront the scourge of violent extremism.
The United States remains committed to working with Prime Minister al-Abadi, the Iraqi Security Forces, and our Coalition partners to support Iraqi-led efforts to degrade and destroy ISIL.
On Muqdadiyah, Diyala Province has been placed under curfew. The unrest includes:
Militias tell residents by sound amplifiers attached to cars "Sunnis should leave Muqdadya-Diyala". #Iraq
Crowd popular Shia executed innocent citizens in Diyala #Iraq
Dropping back to Sunday
:
Though many Americans have tuned out since 2009, they need to be paying attention.



Graphic Shia Militias cut off a Sunni man's ear to show how "tough" they are with suspects of terrorism. #Iraq



And it is graphic.

And guess what?

You don't have the right to look away.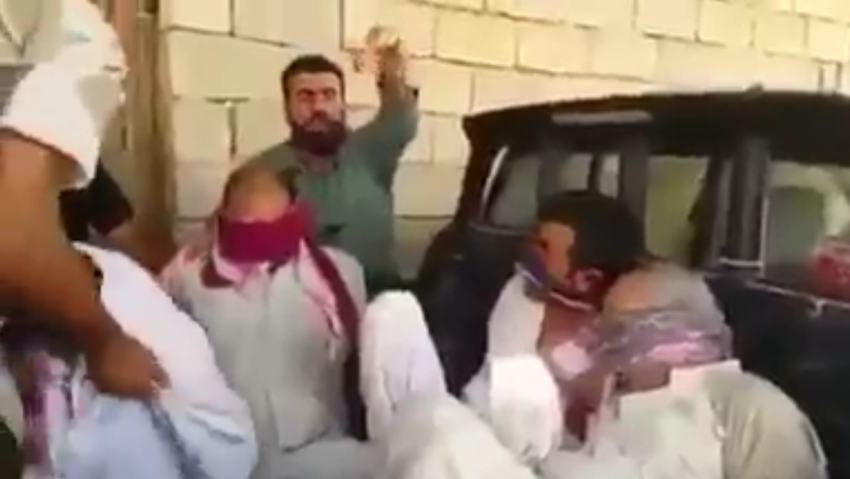 When Iraqis don't have the right to safety in their country because thugs were put in charge by the US government and thugs continued to be backed by the US government, you don't have the luxury of looking away.

Above?

That's outrageous.

There's no legal justification for it.

Not even in the joke that is the Iraqi legal system.

What happened should result in immediate prosecution.

Those are War Crimes.

The prime minister of Iraq, Haider al-Abadi, should be denouncing the crimes.

Any refusal to do so should result in the US Congress exploring whether or not they should continue their support of Haider's government.
Haider didn't not denounce the War Crimes.
John Kirby didn't even acknowledge them in today's US State Dept press briefing.
You can be sure Sunnis across the Middle East are aware of the silence.
RECOMMENDED: "
Iraq snapshot
"
"
The shallow minds
"
"
Hejira
"
"
Carly Simon interviewed by Diane Rehm on Monday
"
"
Sad, sad Jimmy Carter
"
"
New Netflix show
"
"
Disgusting Hillary
"
"
the golden globes
"
"
I disagree with Patrick Martin
"
"
Ralph Nader, put down the pom-poms already
"
"
Joe calls out Hillary
"
"
Cher and Carly
"
"
Shades of Blue
"
"
Shut up Allie McCracken
"
"
THIS JUST IN! CRANKY CLINTON PREPARES TO NOT BE LEFT HOLDING THE BAG!
"
"
Cranky to walk away from Big Dawg
"