RETIRED LT. GEN. MICHAEL T. FLYNN, FORMER DEFENSE INTELLIGENCE DIRECTOR, DECLARED TODAY THAT CRANKY CLINTON SHOULD DROP OUT OF THE RACE FOR THE DEMOCRATIC PARTY'S PRESIDENTIAL NOMINATION "FOR THE GOOD OF THE COUNTRY" AND TO ALLOW THE F.B.I. INVESTIGATION INTO HER E-MAILS AND SERVER TO PLAY OUT
.
RESPONDED CRANKY CLINTON, "IF I DROPPED OUT EVERY TIME A MAN TOLD ME TO GET LOST, OR LEFT EVERYTIME SOME HOST SAID TO LEAVE THE PARTY, I'D SPEND EVERY WAKING HOUR OF MY LIFE ALONE. NO, I'M NOT GOING ANYWHERE. I WILL FORCE AMERICA TO CHOOSE ME BY SHEER EXHAUSTION. IT'S HOW I GOT BILL TO PROPOSE TO ME AND IT WILL WORK AGAIN."
IN RELATED NEWS, MANY AMERICANS ARE POOLING THEIR MONEY FOR SKY WRITER TO PEN A MESSAGE TO HILLARY THAT OPENS, "IT'S NOT YOU, IT'S ME."
FROM THE TCI WIRE
:
Moving over to one specific War Criminal, Hillary Clinton.
Cranky Clinton is yet again having trouble sealing the deal when it comes to garnering the Democratic Party's presidential nomination.
This go round, she's competing against Senator Bernie Sanders.
Today, they faced off in the first primary the United States holds: New Hampshire.
While 2008 saw New Hampshire delivering Hillary a solid win and elevating her then-troubled campaign, today
New Hampshire went to Bernie Sanders
.
When we stand together, we win. Thank you, New Hampshire!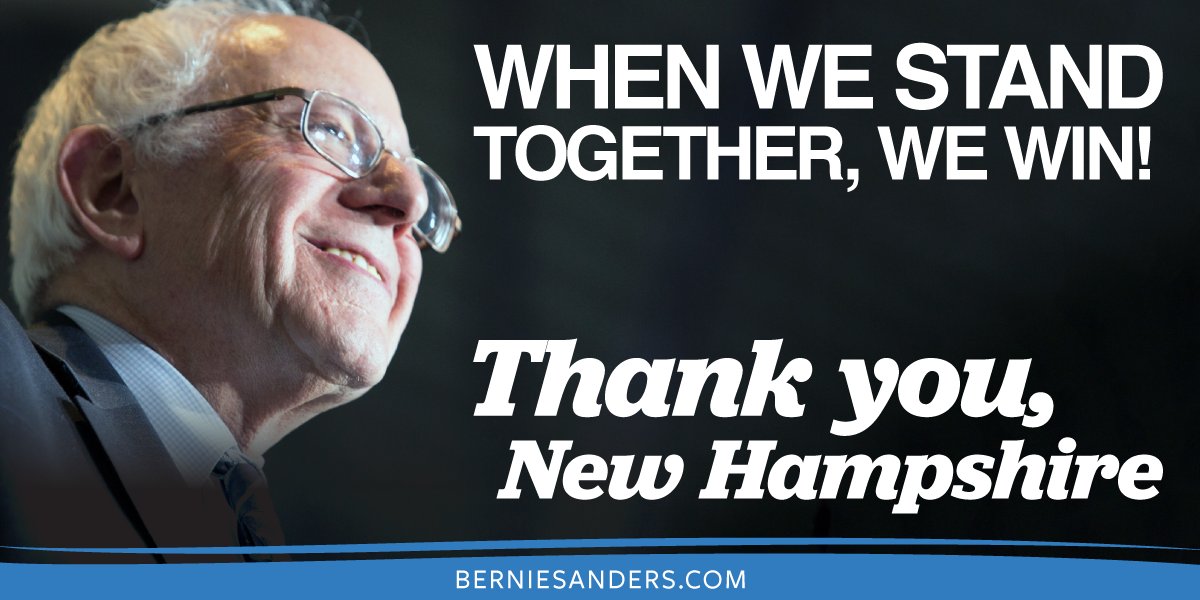 David Sirota (IBT) offers
his take on the night which includes:
Just as notable, New Hampshire Democratic voters revealed a party that appears to have become more left-leaning than ever. According to the New York Times , a full "two-thirds of voters in the Democratic primary said that they are liberal, up from 56 percent who said the same in 2008, the last time there was a contested Democratic primary." Clinton tried to appeal to more centrist Democrats by, for instance, dismissing Sanders' push for a single-payer Medicare-for-all health care system, but two-thirds of the increasingly liberal Democratic electorate told exit pollsters that they support such a system.
Sanders' laser-like focus on populist economics and confrontational anti-Wall Street themes resonated with Democratic voters who said the top two issues they were concerned about were inequality and the state of the economy — a shift by a party that during Bill Clinton's administration often elected more corporate-friendly candidates who downplayed inequality and promoted a so-called "third way" of cooperation with the financial sector.
And we'll note this Tweet which reflects the mood of many:

Hillary? The defeated rush to insist, "I still love New Hampshire."
Aaaawwwww.
Such heartfelt emotions.
But not everyone was as underwhelmed by Hillary's speech . . .
Everyone's saying @HillaryClinton's #NHPrimary concession speech was great. Can't wait to hear the one when she concedes the nomination.
RECOMMENDED: "
Iraq snapshot
"
"
Isakson Statement on Proposed VA Budget
"
"
Editorial: It should be a big deal
"
"
Canada's strategy for the Islamic State
"
"
Haider's not running anything and POLITFACT spins ...
"
"
Hejira
"
"
Hillary's humiliation
"
"
Courtney Cox
"
"
Hillary's embarrassing defeat
"
"
Hillary lost
"
"
When big mouths backfire
"
"
What a difference 8 years makes
"
"
She sounds hideous
"
"
awful hillary loses
"
"
Cranky Clinton goes down
"
"
Ego tripping Hillary
"
"
Aretha Franklin, Prince and Melanie
"
"
Idiot of the week: Hillary Clinton
"
"
Only one choice left (plus a look at Aretha's discography)
"
"
Kung Fu Panda 3
"
"
Hillary is not fit to represent the people
"
"
Hillary's continued e-mail scandal
"
"
The Originals -- where's Freya
"
"
Mama Was A Rock And Roll Singer And Papa Used To Write All Her Songs
"
"
Predator of the United States
"
"
On music and Cranky Clinton
"
"
THIS JUST IN! SHE'S GETTING A MAKE OVER!
"
"
Is it desperation?
"